Catherine's Cause is an anti drunk driving organization. Catherine's Cause was established after MADD re-organized and left Carroll County, Md. The founders Mrs. Cynthia M. Mullikin and Capt Philip W. Mullikin had been MADD volunteers. There are about 15 active volunteers for Catherine's Cause. They range from Police Officers, and Paramedics to Grandparents. The one common factor is that they are all parents with a concern for the lives of others. DUI/DWI drivers who are court ordered to attend a Catherine's Cause Forum fund CC. Monies collected through the Forums are given back to the community in grants to various organizations such as Md. Special Olympics, law enforcement agencies, but mostly in the form of scholarships to young people who wish to become teachers.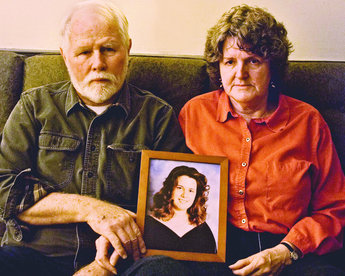 Catherine's Cause was formed in memory of our daughter who was killed by a Drunk Driver November 28, 1998 at the age of 20. We will honor her life by continuing the fight against drunk driving.
Catherine's Cause is dedicated to the education of people convicted of DUI or DWI. It is our desire that they be made aware of the consequences of their inappropriate actions. We hold Victim Impact Forums every other month at the Carroll County Nonprofit Center. Our Forums consist of volunteers who explain in brutal detail the loss of family and friends. Occasionally we have a police officer that talks about his experiences with offenders families who have to be told of the death of a loved one.
We are also devoted to educating students. We explain to the students the devastation and consequences to the parents when a child is killed.
Catherine's Cause sponsors a "Remembrance Ceremony" in December, which memorializes all those killed on Carroll County roads in the past year. We invite the victim's families to attend. A family member lights a candle along with the investigating officer. We are supported by many of Carroll County Law Enforcement agencies, along with Maryland State Police and the State's Attorney's office.
2022 REMEMBRANCE CEREMONY
The invitation only Remembrance Ceremony will be held December 1, 2022 beginning at 7p. We light a candle for
all those killed on Carroll County roads. Our emcee is Sheriff Dewees. Please RSVP as soon as possible. If you
are coming for the first time we would like a short quote about your loved one. Example: Meg's laugh was simply
contagious, when she laughed we all laughed. She had a quiet determination and was the unsung hero.
Any questions email: info@catherinescause.com
The goal of Catherine's Cause is to reduce the number of alcohol related deaths on the highways by promoting public awareness.
***All monies collected will stay in Carroll County
© 2014. Catherine's Cause is a fund of the Community Foundation of Carroll County. All Rights Reserved.